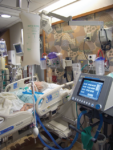 © Alamy Stock Photo.
Whatever happened to SIRS? Why don't we use the term "severe sepsis" anymore? And what's a qSOFA score?
Changing knowledge, changing practices.
Since the Society of Critical Care Medicine and the European Society of Intensive Care Medicine launched the Surviving Sepsis Campaign (SSC) in 2002, there has been an ongoing search for best practices.
Education campaigns have focused on early diagnosis and aggressive treatment. Best practices continue to evolve rapidly. As our understanding of sepsis pathophysiology has increased, definitions have changed and "sepsis bundle" interventions have been updated. […]